Elearning and Training Management Applications - Challenges for 2022-2026
Technology and education seem inseparable now, and they've changed the way people start learning. 2021 proved the importance of eLearning. By 2026, the global eLearning market should be worth $375 billion! Check eLearning challenges for 2022-2026
Trends in eLearning for 2022-2026
2021 proved the importance of eLearning. The situation with COVID just pushed us to use eLearning or training management tools so heavily. We needed to do everything online, much more than ever.
Technology and education seem inseparable now, and together they have changed the way people start learning. Same with corporate training management systems and employees who are getting knowledge from dedicated eLearning systems.
The rapid growth of eLearning market
2022 will probably be the year eLearning applications take off more and become even more consolidated. The decentralization of knowledge and the rise of product info training in business will come into effect in 2022. By 2026, the global online learning market should be worth $375 billion! Source: THINKIMPACT
ELearning advantages and improvements
ELearning management systems provide a number of benefits, enabling companies or schools to improve motivation, increase user engagement and productivity. With the flexibility to learn from anywhere in the world, people do not need to physically attend the courses.
This is the biggest advantage of eLearning - it increases accessibility for a wider range of people at one time. That also helps to manage courses, learners, providers (if you have external coaches who are making training in your company) and have better analytics of results in education activity in your company or school.
Gain more than your competitors with custom LMS
Real-time collaboration and elearning tools are perfect for distributing knowledge in an agile way and giving options for resolving doubts on the spot. Companies or universities can gain competitive advantages if they create a customized LMS (eLearning management system) targeted at your specific business or university needs for online training.
In addition, you significantly reduce the costs of searching and recruiting instructors, renting premises, purchasing equipment. This is especially useful for multinational companies with locations in different countries. ELearning applications can train employees and students through various activities, such as text content, audio and videos, immersive experiences and gamification. With innovative eLearning software solutions that leverage artificial intelligence, MR (mixed reality), big data, chatbots and gamification, you will be able to enrich your user experience and create engaging learning environment.
What is interesting - MOOC business model (massive open online course) is becoming more relevant and is presented as a format that most trainers use. Live training and webinars are becoming increasingly important and one of the most affordable options to training employees.
ELearning applications challenges for 2022 and later
A short history of learning management system
The first online learning systems were created only to provide information to students, but in the 1970s learning at a distance began to become more interactive.
In Great Britain, the Open University eagerly made use of eLearning. Their education system has always focused primarily on distance learning. In the past, training materials were delivered by post, and correspondence with lecturers was made by post. Thanks to the internet, the Open University began to offer a wider range of interactive learning experiences, as well as faster correspondence with students via e-mail, etc.
In the 1990s, face to face learning methods as well as extended learning developed, through the emerging new work/learning environments, which had a big impact that eLearning first started to exist by developing both of these methods (face-to-face and augmented learning). These technologies have induced a significant change in society.
The value of eLearning now far exceeds that of instructor-trained staff. It is highly flexible in its costs and it is perfect for tech-savvy millennials and Gen Z-ers. Despite the best LMS tools, distance learning can be still difficult as they have to face the latest technological advancements in eLearning which is a big challenge. Understanding this enables to execute the delivery of better online training for effective employees development. And it will aid in tweaking your online training plans to reach your desired output.
ELearning challenges now - what is a Custom Learning Management System (LMS)?
Since 2000, the digital education industry has grown by 900%, making it the fastest-growing market in the education industry with a high margin. Source: KPGM
One of the biggest uses for eLearning resources is corporate training and development management software - Training/Learning Management System.
LMS (Learning Management System) is a flexible learning platform that makes it easy to build and manage training programs for internal and external stakeholders. New learning experiences redefine the way enterprise technology is incorporated into their learning journey. The development of your own learning platform facilitates the culture and growth of the team by bringing a process that combines the collaboration force with modern tools trends.
LMS (Learning Management System) is a flexible learning platform that makes it easy to build and manage training programs for internal and external stakeholders. The personalized LMS software can give extra points for organizations, as they're the ones that take care of their teams' key skills development.
The personalized LMS software can give extra points for organizations, as they're the ones that take care of their teams' key skills development. Another way to get employees' respect is to train the entire company team through a specific education platform that gives them not only knowledge and learning experiences but also has some social media features, that makes your business organization's training more fun.
Training management software - who is that for?
Actually, it is a good opportunity not only for huge corporate businesses but also for medium or small businesses as well. A personalized learning system gives employees the feeling that you really take care of improving their skillset in the whole company.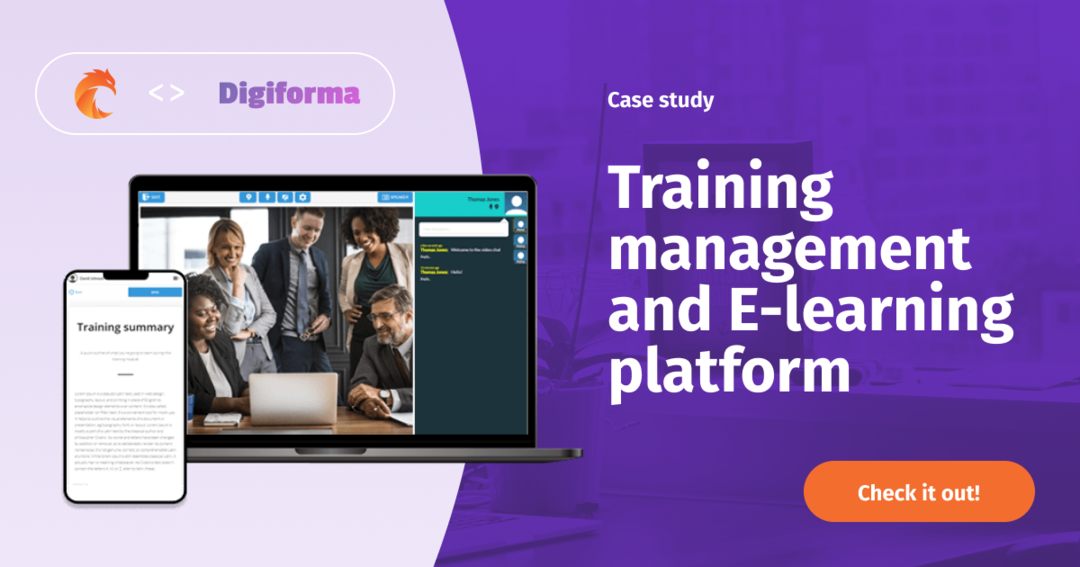 Check how we developed the LMS platform for DIGIFORMA.
Increased use of corporate eLearning programs
The eLearning market size exceeded $ 250 billion in 2020 and CAGR is expected to grow exponentially by over 21% in 2021-2027 Source: GMINSIGHTS. Schools and businesses are adopting online learning tools to increase the engagement and learning experience of students and employees. Service providers are taking advantage of this opportunity and extending their EdTech products and services.
90% of large corporations use computer-based training systems compared to only 35% in 1995. Online corporate training programs include training in sales, marketing HRM (Human Resource Management), certifications, virtual conferences workshops, etc.
The American Society for Training and Development has found that using digital training has increased profits by 218% per employee. IBM could save $200 million after switching to the digital trainer software, according to research group KPMG. This allows for higher profit margins in software applications.
Online learning is gaining high popularity at schools, colleges and universities.
The coronavirus epidemic forced organizations to abandon traditional education to eLearning. The COVID-19 pandemic has further transformed the eLearning market with the closure of schools and universities globally.
During the isolation caused by the epidemic, interest in applications such as Zoom and Microsoft Teams began to grow at a surprising pace. They are the two largest competitors on the market, offering excellent solutions for organizations and universities that operate in remote work models.
Zoom is a leader in the video communications industry, gaining popularity since its stock exchange debut in April 2019. Microsoft Teams is a comprehensive Microsoft tool designed to seamlessly integrate with the rest of Microsoft 365. Both high-level tools offer a very similar range of features, but some key differences can affect your application decision.
However, now that the pandemic constraints are getting weaker, eLearning tools of this kind are still widely used. Why?
Mobile applications, interactive websites or other interactive products and services help students absorb knowledge more quickly and easily. ELearning software packages are now used extensively by schools, colleges and universities as well as by businesses. They can provide many advantages including cost reduction (saving money on hiring instructors, buying equipment and renting rooms for workshops), efficiency, and access to content based in any place in the world 24/7.
10 eLearning challenges for 2022-2026
What features should be included in a training management system solution?
Training management software should let you organize the logistics of your courses and resources in a way that is perfect for you (based on date, topics, lecturers or attenders). But eLearning or training management system has to also have interesting features for your users. That's a big challenge for 2022-2026. You don't want to create a tool that nobody will want to use, right? Think about features like mobile learning, social learning, video-based learning, AI, gamification or the rise of immersive technology, to encourage your employees or student to use the training platform. What is a must-have for learning management systems?
Let's learn step by step about a couple of features that are going to be TOP must-have for 2022-2026. There are tons of things to consider when it comes to creating the right Learning Management System.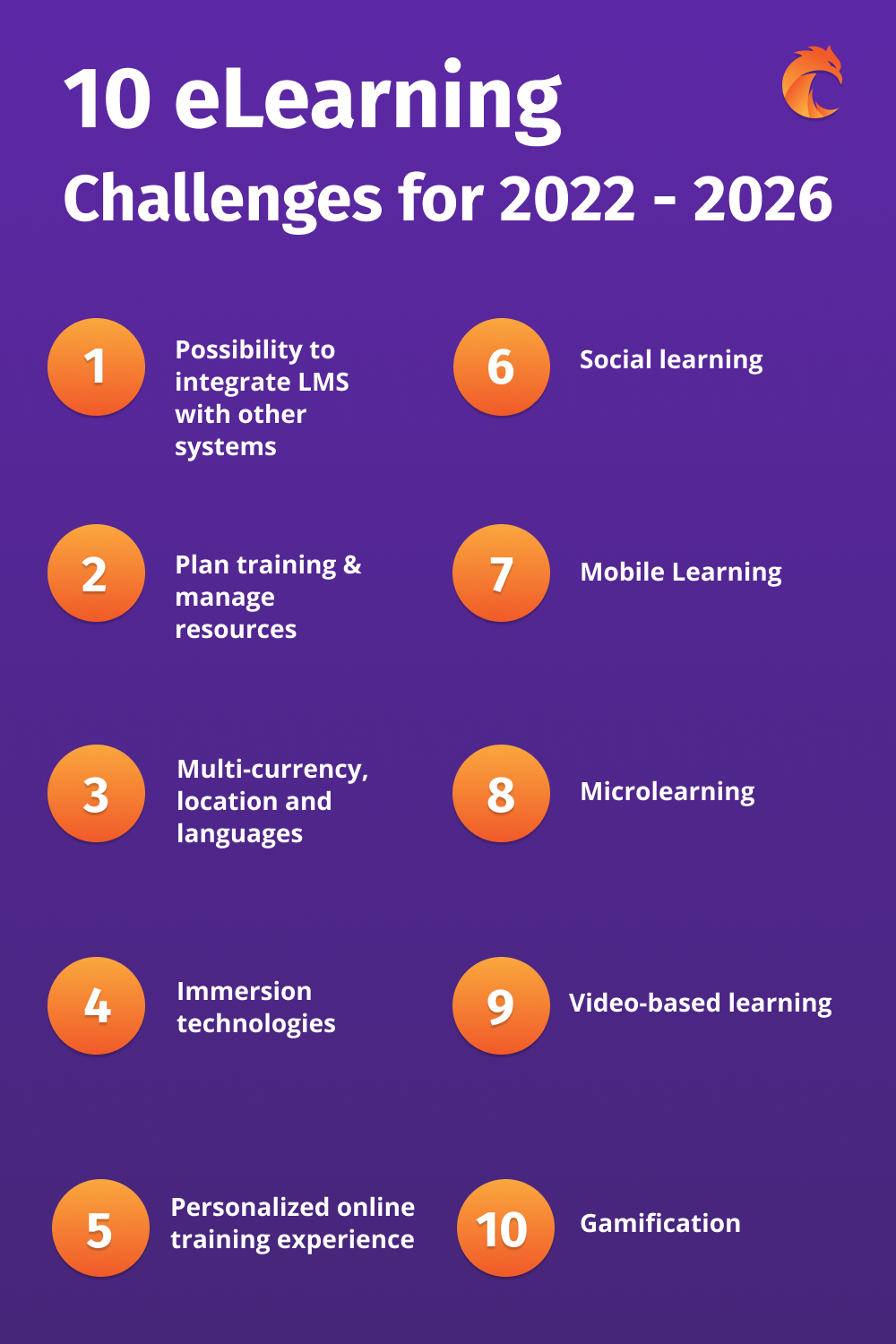 Possibility to integrate LMS with other systems
A good training management tool should enable you to integrate your other software systems into a suite of specialist courses. Think of a training management system as a solid foundation on which to build. You may use other resources for your business that can help you to improve the software you use for training. Actually - using these connections is a great solution for creating a good training process. Imagine that you want to create a workshop for your sales specialists - would be good to have your sales data available to show how to improve them or why.
Integrations with other software systems can be a key element of your training system! In a corporate world - it is a must to integrate your employee management system, to not copy all of the names from another management system to your eLearning application.
Plan training & manage resources
It is very important to be able to create, plan and automate access to educational resources via the platform. LMS is not only an online content library. You need to be able to manage your resources in many different ways.
It can be helpful to use templates to create some courses that speed up the building and planning process. A single data entry needs to be entered into multiple databases - with information about the course, its venue and learning materials. What if you can propagate them quickly and easily?
It is important that your students and administrators can send and receive notifications to keep them updated and involved in the entire learning process.
What's also a big thing - budget and resource management, profit and loss calculation can be easier thanks to automatic statistics and KPIs in real-time.
Multi-currency, location and languages
If you want to offer an eLearning application to the global market, you need to prepare for all the solutions necessary to internationalize the application, such as multilingualism and support for foreign currencies during payments, etc.
Can you imagine Zoom or Microsoft Teams only in one language? Similar thing with companies that have departments in different parts of the world.
If the application is running on multiple servers in different locations, make sure to set up your infrastructure in a way that the user communicates with the closest server node. This solution will boost interactivity by reducing latency.
The inevitable importance of immersion technologies in training management software
Virtual & Augmented Reality is getting more and more popular in eLearning applications. VR lets us use an interactive 3D environment accompanied by physics combining a realistic environment with real interaction with the environment and some interesting aspects.
Virtual reality technology is found in other applications, including training and group work. Walmart announced an 80% saving in training time by preparing store employees for Black Friday using VR.
This trend was one of the best eLearning technologies in 2019 and it is very likely that it will not fade away any time soon. For example, insurers can implement AR to develop fire inspection training.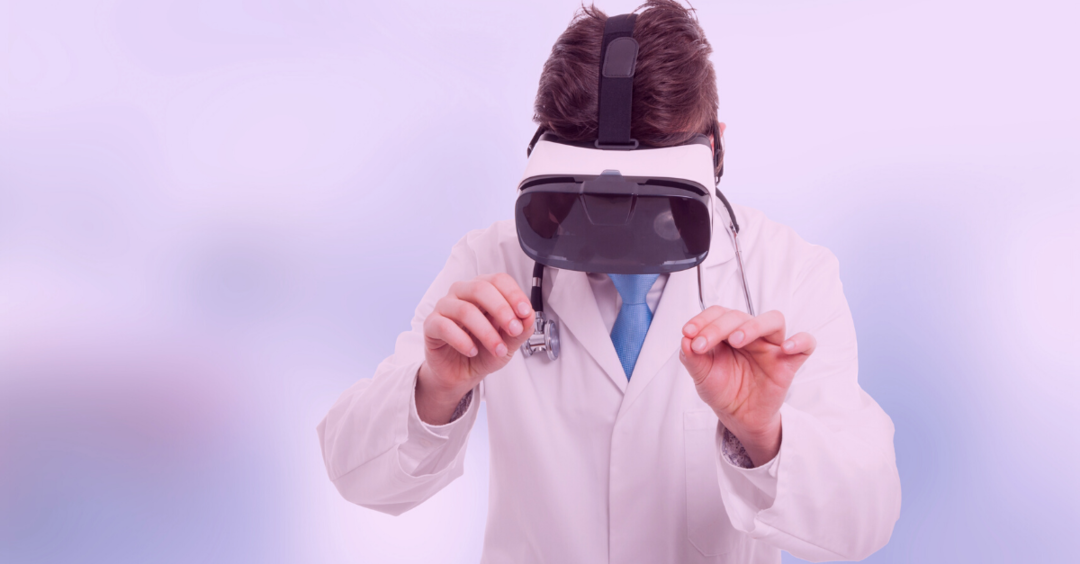 Mixed reality is especially beneficial for people with higher comprehension of visual data than textual information. In various industries, there are VR and AR use case scenarios including health care and chemistry. For example, students may take a trip back to Roman times to look at the Roman monuments.
Personalized online training experience
LMS gives us the possibility to design learning paths and allocate required online training resources. It is possible to create individualized online learning and development possibilities, tailored to each one's learning outcomes, job requirements, etc.
One of the great improvements in this area is the possibility of creating and managing own training sessions and online assignments by trainees. Personalized management of online courses increases the online learning experience and satisfaction. Not to mention enhanced memory retention and engagement.
User experience personalization is likely one of the most important areas of e-Learning research in 2019 and beyond.
A custom LMS can personalize training content based on user preferences and history of learning - audio, video, etc. and and deliver optimal media formats (audio, video, images, simulation files). With innovative technology, it's much easier for instructors to spot what students are missing and make improvements accordingly.
Modern training managements systems let us employ big data algorithms and artificial intelligence to analyze learning outcomes. Students on the same training can receive different materials based on the students' profile details. ELearning platforms monitor students for achievements and skills and identify their strengths and weakness.
Let's talk a little about virtual assistants. Yes, imagine Virtual assistants in online training! It is an amazing feature - a voice assistant that will help offer you answer to your basic questions and help you understand the subject of the training.
Social learning
For a learning platform to be truly effective, you need to offer more than just content and courses defined within human resources.
According to new research, 91% of businesses expect social innovation from education. Social learning generally refers to simple collaborative work practice. Learning can happen through informal chats, forums, learning circles and sharing sessions. Social learning encourages the sharing of best practices.
While it's highly possible that companies will make it mandatory for employees to engage through the learning platform, many organizations are also now seeing the benefits of collaborative and social learning driven by their own employees.
Social training is available, open, effective and suitable for the modern workplace thanks to the rapid growth of social platforms and robust communication tools. This type of learning is also increasingly getting acceptance from businesses in the global workplace.
Social learning encourages the sharing of best practices and peers discussions through content that your employees create and participate in – without the need for L&D to spearhead or drive.
Social learning is an organic technique making it cost-efficient. Social training, besides being open and efficient, is suitable for today's workplace with its exponential growth.
Mobile Learning
In 2020 there were 4.6 billion mobile users and it is expected to reach 7.1 billion by 2021.
99% say mobile skills make learning easier, 67% of people learn using mobile devices. This makes it particularly important when people continue to work and learn remotely due to the pandemic. By next years mobile learning, which has become more accessible and flexible at COVID times, will continue to grow the trend of learning online.
Mobile technology combines immersive technologies to create immersive learning materials. ELearning is preparing to become "mobile-first" to be even more open for many users. Corporate employees are turning to mobile learning services as they can sign up for short, modularized courses on tablets or smartphones even during commutes.
Supported by rapidly improving Internet infrastructure, this is effectively fueling the adoption of mobile and online learning, which is having a positive impact on eLearning industry revenues.
Microlearning
Microlearning is a system of providing learning quick-paced and bite-sized content. This increases learning speed, facilitates quick knowledge consumption and better retention.
In microlearning, short learning parts to learn (2-7 minutes) oust the long text-heavy content. The easy-to-consume parts are designed to help learners meet a specific goal in their learning path. This way, learners in busy workplaces can make every minute of learning worthwhile. Flexible delivery of microlearning with devices and custom software helps overcome these obstacles.
The adoption of microlearning has been in high gear over the last two years. And, judging by the benefits it provides, microlearning will only grow in importance and accelerate further in the next years.
What really matters when it comes to microlearning-enabled course management software, it should allow using microlearning via any device, including desktop and mobile, and in many different ways, like videos, short infographics, sheets, pictures, stories. This is particularly one of the main reasons the microlearning trend is accelerating.
Nowadays, there are two constraints that prevent proper training delivery. One is time, and the second is dwindling attention spans. The flexibility to deliver microlearning on any device helps overcome these hurdles. With attention spans dwindling, more and more organizations are set to adopt microlearning in their training management platforms.
Video-based learning
41% of employees said that interactive video is the most successful training technique in customized educational content.
Video-based Learning has given statically-based eLearning content its way. 75% of consumers prefer watching television to using any other forms of online media to learn about new products and services.
The power of YouTube or TikTok doesn't come out of anywhere (yes, on TikTok you can also find interesting, educational profiles). With easy learning videos to absorb and convey in bit by bit, you can use microlearning and mobile learning as well. Videos are also used to help students acquire more knowledge effectively.
Gamification
Gamification is considered a new emerging trend in training technology. It is important for the companies to entertain employees through engaging activities, such as games or motivate them by providing fun & entertainment (in our team we love stickers you can give to your colleagues when they did some great job!).
Gaming elements include badges, tests, quizzes, missions, leaderboards. It provides varying ways of engaging users that enhance the learning experience and encourage them to acquire skills.
Gamification can be used for training employees and specialists of their respective client organizations. Using gamification in eLearning applications can bring many potential benefits.
Sum up - reinforce your eLearning efforts with these trends and make your LMS platform rock!
Online learning can be performed using different solutions, from mobile eLearning and virtual classrooms up to full LMS/Training Management Systems connecting many different options of learning and ways of managing courses. The coming years are going to bring us even more opportunities, by implementing immersive technology, AR/VR or AI at learning systems.
Creating an original eLearning application that meets the requirements of users may not be that simple, but it is important to define its main goals and features, which are must have at the level of creating a prototype and MVP (check our e-book how to create MVP).
Evidence is clear of the booming demand for the eLearning industry. A time of intense attention should be given to a change in organization policies in this respect.
2021 - 2022 will bring us a huge growth of eLearning market, therefore it is worth taking advantage of this opportunity to create something that really answers eLearning market needs. Focus on delivering accessible, customized, interactive and engaging e-learning.
If you think about creating or developing your own eLearning app - we are happy to help and make your platform rock! You can also read our case study of developing training management and e-learning platform serving thousands of French corporate clients - DIGIFORMA.
Let's talk about your project!
Don't forget to share this post!