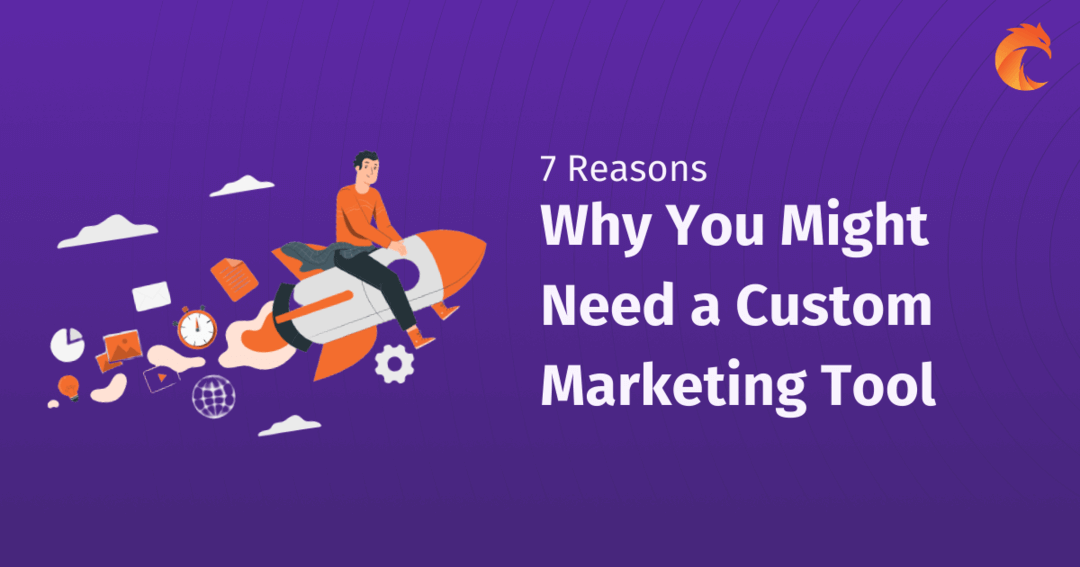 7 Reasons Why You Might Need a Custom Marketing Tool
Managing a marketing agency or introducing a company to digital transformation in the area of marketing, requires an extraordinary focus on the tools that you should use. Usually, they facilitate the work of marketers and allow you to achieve the expected results of each project and advertising campaign you are working on.
Just to name a few, here are a couple of marketing and sales tools types you may use daily - Project Management, Content Management Systems (CMS), analytics, or Customer Relationship Management (CRM).
I know from experience how long it takes to navigate between screens and verify/collect data you need from many different tools. This is why at Curiosum we often look for tools that will make it easier for us to work with omnichannel, communication, content marketing strategy, or the analyze results of marketing campaigns.
Even though there are a bunch of tools we can use to support almost any marketing & sales activity, there are still a lot of cases where we discover new internal needs and as a result, decide to create our own tool.
Here are 7 reasons why you should consider building a custom marketing tool for your agency/company as well.
All data in one place
From my perspective, the most important function of a custom marketing management tool is to collect all marketing and sales data in one place. I am a big fan of all marketing tools and I am often looking for new tools for both market research and my daily work with social media, SEO or campaign management work.
The industry offers thousands of solutions - applications and tools that should make our work easier. However, when comparing the tools, I think "it's a shame it doesn't have this feature," and it turns out that it lacks another solution that the first tool offered. Sounds familiar?
Get rid of this problem by building custom marketing tools.
A tool created for the specific needs of your company gives you complete access to data, combines the necessary functions, allows for faster and more accurate analysis of advertising campaigns. You can personalize such a tool with sales data and a CRM system by carefully checking customer engagement, examining the time they need from the first point of contact with your company to establishing a business relationship. This type of tool can allow you to monitor the path that the customer has made before the purchase and can help you adjust future messages to customers thanks to the analysis and research on the current content.
If you are a marketing agency, you can use non-standard tools that play a role in the implementation of client's projects: managing social media channels, creating marketing funnels for project or controlling communication in various channels of contact with the target client.
Marketing automation tools
Introducing your business into digital transformations, you must remember about marketing automation. Most of the tools available on the market allow you to combine CRM with marketing funnels where you can efficiently warm-up a potential sales contact.
However, such tools do not always have all the functions you need - they usually combine mailing campaigns, landing pages, CRM, and website analytics. You may, for example, use a tool that has great CRM, mailing, and landing pages modules, but a lack of good heatmap analysis and social media scheduler. It all comes down to your specific needs, and these can only be satisfied by a custom marketing tool.
Social media tools
Social media is another example where we can see lack of functionality of the tools that are available on the market. We have faced that also at Curiosum. When looking for a tool to manage all social media channels, we wanted to choose a tool that allows us to keep a publishing calendar, but also analyze the interest in published content, check advertising campaigns of our competitors or suggest social media groups where we could target our content.
The first problem is that most of the tools allow you to manage social media only on basic channels such as Facebook, Instagram, LinkedIn or Pinterest. What about other channels and the ability to analyze competitors' activities in different social media?
Another problem we encountered was publishing links in social media. In these platforms, there is an incentive to publish posts to third-party domains because it increases the reach of posts and favors sharing our posts by subsequent users. However, this does not add much value to our domain and data collection with cookies. Therefore, the great advantage of a custom tool is the ability to shorten external links with the function of collecting user data to our pixels. Thanks to this, potential recipients do not "run away" and you can conduct dedicated communication for them.
Social media is not only publishing posts, but telling the story we want to convey, therefore the key to a reliable social media strategy is lively participation in posts and groups. Searching for groups on social media is just a seemingly simple matter. Often the largest groups in number of members, despite the fact that they are proposed in social media search engines, turn out to be the least involved - these are not the groups we need. Searching for engaged audiences takes more time, but the solution is a complete tool feature that automatically suggests engaged groups in which your activity would be welcome.
Popular applications allow you to suspect competitors 'entries or create a publishing calendar on the most popular social media channels, but this is much less than we can do through a customized tool. In addition to the publication calendar, marketing strategy, analysis of competitors' posts, customized tool will fill the gap with specific group suggestions, campaign budget proposals and will reveal to us the advertising budgets and target groups of competitors.
Productivity
Managing your and your employees' time is a challenge that every business owner must face. Working with multiple projects with a specific human resource can be difficult. Of course, in the case of working on many projects, you can hire another person in the team, but the increase in the number of employees does not always have to be proportional to the increase in the number of projects. You just need to start managing their time better.
Custom marketing tools can allow you to manage your team's work time better. Collecting data in one place, as mentioned earlier, helps you reduce the time spent by your employees analysing data from various sources and reporting as well as communication with the client.
One of the most burdensome things in running projects is reporting the results. On the one hand, because when we look at the data, we know what they represent and we are able to interpret them. However, collecting them in one complete file for the client takes more time than the analysis itself. A custom tool allows the client to access the results at any time, so you will not have to spend time on the report as it can be generated automatically.
Another example of better employee time management are suggestions from a custom tool. If you are looking for sites for linkbuilding or word of mouth marketing, or you are creating a content marketing strategy, the tool can suggest where your competitors place their links or what blog post would be desired by your audience.
Focus on your needs
Depending on the specifics of your business, you will need different tools, access and data. After all, the marketing of an international corporation, producer or marketing agency is managed differently. A tool personalized exactly to the needs of your company can improve its PR, increase audience engagement and allows you to predict trends that will matters in your industry.
Technology based on machine learning or artificial intelligence will learn about all these activities, measure them and suggest changes that should be included in marketing communication.
If you are a recognizable global brand and you are considering changes in your slogan, you can test it on a specific group of recipients by collecting data in your marketing tool, not necessarily involving external companies in market research.
A custom tool is the only opportunity for complete marketing that perfectly takes into account the needs of your company. Depending on the specifics of your industry, you will need different functions, accesses and data. Designing such a path and processes in the company is the basis for answering the question - whether I am able to conduct effective marketing activities using the existing tools on the market? If the answer is no, a custom marketing tool can help us with this problem.
Project management tools in one place
The CRM system and the ability to create a landing page or mailing campaigns can be found in some of the available tools, but none of them is complete with all the necessary data.
Yes, you can check the customer's entry channel, follow their path. You can assign a contact to a specific marketing funnel and check what is the interest of a potential customer, but the data alone will not give you enough knowledge about your recipient and, most importantly, will not give you basic knowledge to optimize your marketing activities.
In a complete project management tool, you need not only customer data, but also data from advertising campaigns you conduct, analysis of the website you manage, such as heatmaps, which will allow you to determine what the users on your website are interested in. A complete project management tool includes sales and marketing tools thanks to which the work of both departments will be efficient, based on omnichannel and exchange of knowledge between departments, which will allow you to perfectly manage projects.
Omnichannel tools
You deal with multichannel marketing, so you know perfectly well how important it is to contact the customer at all points. Excellent customer orientation ensures the highest level of customer service and builds loyalty around the brand. It's a value that you work for months, but with the right tool, you can do it faster and better!
A custom tool can compare customers who came to you from different channels, examine their specificity, adjust push notifications or marketing funnels to people you have acquired through social media or a website. Such a tool can show you how different expectations customers obtained from different sources.
A great advantage of the tool adapted to omnichannel is the insight into the correspondence with the user, regardless of whether he contacted via social media, a website or a telephone conversation. The history of correspondence and your knowledge about the user gives him a sense of belonging to the brand and engages him more, because he knows that the employee serving him will always be on the subject of his needs.
In addition, a customized tool can suggest how to best guide the user on the website by improving its UX/UI and shortening the user's path to the final contact. The use of heatmaps and automatic drawing of conclusions by the tool will significantly improve the work and bring real results.
Thanks to the custom capabilities of the application, you will not forget to brand your communication - you can work on prepared templates for popups, sidebars, e-mail messages or footers so that they are consistent with your visual identity and communication standards in the company.
All these features are indispensable in a great marketing strategy that you have the chance to implement with a precisely structured tool.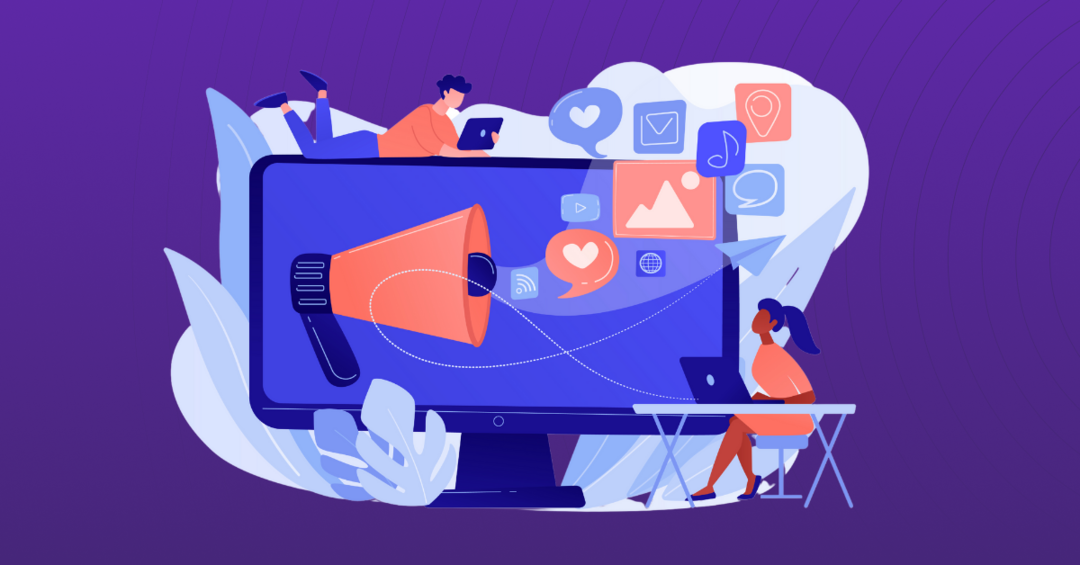 Marketing personalization
During my work, I was wondering how to make the client feel that we are creating messages exactly for him. Of course, we send personalized e-mails to users, we know what topics they are interested in and what content they expect. However, these messages still can be too general to engage with to encourage some activity of the potential client. Why?
Suppose you add general and personalized content marketing articles for luxury brands to your agency's website. You can see that the customer came to your website through a general article, but he was also interested in the content you are building for this customer segment. You are lucky - he signed up for your mailing list because he was encouraged by your ebook on the industry report.
However, you still don't know what he expects from your agency. The first thought is to direct him to a mailing base targeted at this customer segment. By leaving him at this stage, you can deprive yourself of a committed lead that may result in cooperation.
A custom tool can signal your sales department to get a better look at this user. You already have data that can be generated from the system - what topics on the website are of interest to him, in which mailing lists he functions, what is the click rate of emails sent to him, and on what topics.
Therefore, the sales department has tips on how to talk to such a customer - starting with a person's research on channels such as LinkedIn and on the web, checking the product that he offers on his website. Monitor the actions you have already taken to increase your sales. You can use all of this in communication directly with the customer.
After all, it is much better to establish a business relationship with a company that did more than sending an email about its capabilities - it focused on you, became interested in YOUR brand, and has a realistic plan on how to help you.
Competitive advantage
Like any entrepreneur, you fight for your position in the industry. A personalized marketing tool is an asset that will allow you to maintain your position as an industry leader.
I have already mentioned the organization of the work of the team members and yours as the decision maker. The custom tool allows you to create automatic reports, indicators and forecasts for the client regarding his activities and trends in his industry.
For example, you are a 360 marketing agency serving ecommerce customers.
A tool tailored to your business should include the possibility of a separate account for each project, which in turn would include complete visual identification with templates for the client's newsletter, landing page for creating marketing funnels, analysis of all pages and paths of the client that he went through and where he clicked, which could result in UX/UI changes on the customer's online store and shortening the decision-making of recipients and, consequently, increasing the organic conversion.
The tool could automatically suggest search phrases and keywords, suggesting which content marketing articles your audience is looking for. Social media accounts for managing the publication calendar and content as well as analyzing the content of the competition and its advertising activities with the proposed budgets (this could, for example, result in an increase in the client's budgets for advertising activities = upselling).
Reports from advertising campaigns that you run in Google Ads and Facebook Ads could be in one place and be more readable for "non-marketers", which would allow the customer to access the results of your activities 24/7 and, above all, understand the data contained in the reports. The client would be able to check the progress of your SEO activities on an ongoing basis, seeing the increase in the page ranking and the number of backlinks. If you coordinate influencer marketing in 360 marketing cooperation, you can add a separate function in a custom tool thanks to which you and your client could see which influencer attracts the most stores to their e-commerce, so that the investment in influencer marketing would be more accurate.
Thanks to the support of a custom tool, you can handle projects for various industries, for different customer segments, adjusting the tool's functions to a specific case.
By adjusting the tool to the marketing path we consider "ideal" in a given project. When each step of the user is important and analyzed, we can suggest changes and improve current scenarios. Thanks to a personalized tool, we get a synergy that is naturally not possible with separate tools and thus gain a huge competitive advantage.
Read: What is Software as a Service - Guide for Beginner
Summary
Custom application for managing marketing activity in your company and customer project management is a perfect tool for a well-organized business.
Access to all data in one place, with automatic generation of reports containing points important for you or your clients, information on the progress of teams' work, or making personalized creations for end recipients, is something you may find in some popular tools for marketing agency, but do they respond your specific needs? Think about the opportunities you need to empower your team and enable you to achieve more.
Read more: In-house vs Outsourcing vs Freelancing Software Development
Don't forget to share this post!